Connecting for Growth
Telecom
Designing a customer-centered business network offering and support organization.
For a global communications company, shifting to a customer experience-led culture.
The Challenge
Design, develop, launch and scale an integrated business network offering. Transform supporting business functions to provide a satisfying, simple experience that empowers customers.
The Outcome
The launch of a new suite of enterprise services allowing customers to directly manage integrated products, speeding delivery times by 40%. The new service generated over a $1B in revenue for the telecommunications provider.
A global telecommunications provider, faced with increasing enterprise customer complaints, decided to change its product-centric approach to improve its customers' experiences. The company's product silo model had resulted in unique service and maintenance processes, IT systems, contracts and bills for each product. Customers complained of poor sales and service, limited visibility into their network inventory, excessive provisioning cycles and incorrect bills. In addition to mounting customer challenges, a competitor announced a significant price decrease for their enterprise product offerings. Faced with potential increased churn, the company's officer team asked us to develop a strategy to leap-frog the competition and to improve customer service from pre-contract to post-bill. This required the company to adopt a customer-centric, instead of product-focused, culture.
Shifting from a product-led to a customer-centric culture first required the company's leadership team to align on why customer experience was now paramount. The team consisted of senior executives from the product houses, sales, marketing, customer care, legal and regulatory, finance and technology. We engaged them in an intensive, interactive discovery process to understand their beliefs, challenge assumptions and debate options. The successful approach involved balancing a rapid, iterative process to obtain the right facts to inform decisions.
Nine characteristics formed the basis for our interactions with the leadership team and their organizations.
Engage the "right" people at the "right" time to build excitement and urgency.
Establish an aggressive timeline, including an intensive meetings schedule to keep the process output- and action-oriented.
Commitment to focus on what is realistically achievable, finding ways to deal with issues which could be quickly reconciled.
Promise to stay engaged, honor commitments to each other and not "delegate down."
Insist on capable facilitators with strong content and process skills who can exert influence at senior levels.
Build-in "challenge sessions" along the way, designed to inject external customer, competitor and Wall Street perspectives at appropriate points.
Employ mechanisms to balance leadership versus consensus, so that decisions can be made when participants confront irreconcilable differences.
Synthesize decisions along the way, to ensure that the process remains on track and mid-course corrections are made in a timely fashion.
Support from subject matter experts as necessary to provide the skills to explore relevant issues.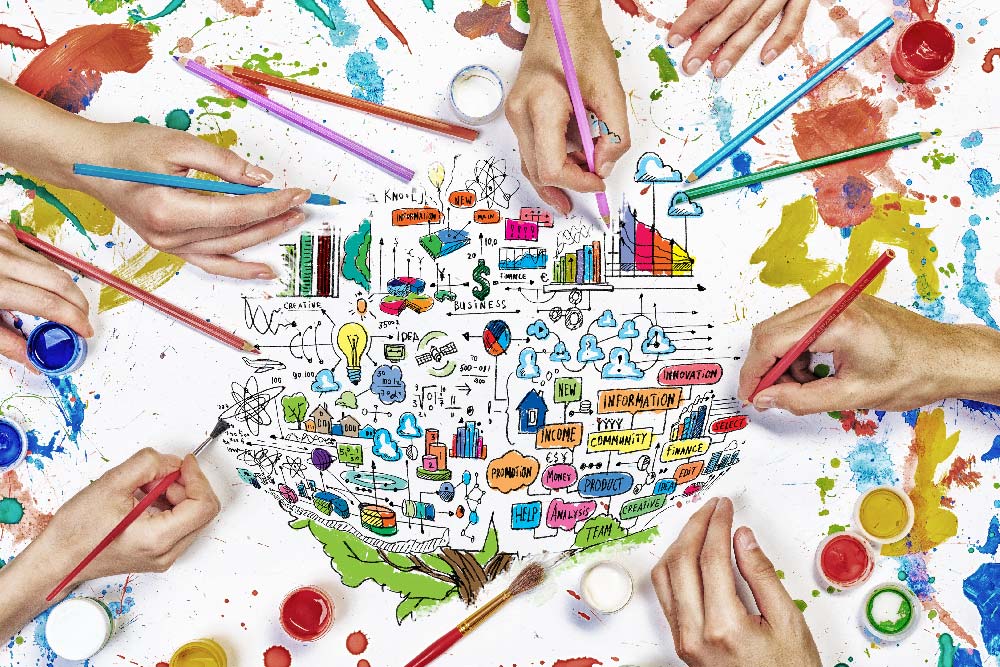 After three weeks, the leadership team agreed to and could articulate the following points.
Why a customer-centric approach best positioned the company.
How to achieve alignment around this direction.
A degree of confidence and understanding of risks with mitigating approaches.
What to do more of.
What to stop doing.
How to reprioritize existing initiatives to support the strategy.
Once the coalition of leaders was in place, each organization assigned members to a cross-functional team. The team facilitated nine customer forums in five cities. Each forum included a minimum of fifteen customers from multiple industries. Customers were asked "in a perfect world" how they would prefer to engage from the point they discovered a need through implementation to maintenance and enhancing solutions. They shared which processes were painful, where they preferred to manage activities themselves and when and how they needed support. Their ideas were combined into a service offering vision that was shared for further feedback.
For the next three months, the team engaged with sales leaders, product managers, customer support teams, IT and finance to design the business capabilities required to deliver on the service offering vision. Customer and internal users interacted with prototypes and recommended improvements. The resulting designs for the service offering and customer experience model acted as anchors for the realignment of budgets and inflight programs. Programs aligned with the vision were given priority funding and resources. Initiatives running counter to the vision were stopped and refocused on capability gaps.
The new service offering promised customers an integrated experience for the majority of their telecommunication products. The offering included an integrated contract with discounts based on total volume, a single bill, and single point of contact across the product set. Customers were provided a portal with 24×7 access to view how their services, locations, statements and invoices were organized across their network. Most routine customer service requests could now be completed online. Because customers were involved from vision through launch, they quickly migrated to the new integrated service.